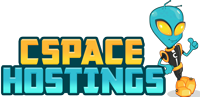 Default Account Page
If you are the owner of this website and were not expecting to see this page,
Please contact CSpace Hostings Support as soon as possible.

If you are the web site owner, it is possible you have reached this page because:
Your Domain has Successfully Propagated To CSpace Hostings.
Your Domain has Successfully Been Registered.
You have opted for a FREE DOMAIN MAIL Plan.
It may be possible to restore access to this site by following these instructions for clearing your dns cache or clearing your Browser Cache.
This site is hosted by CSpace Hostings
Build your website today at half price! Coupon code: "HALF"